Your Signature Soup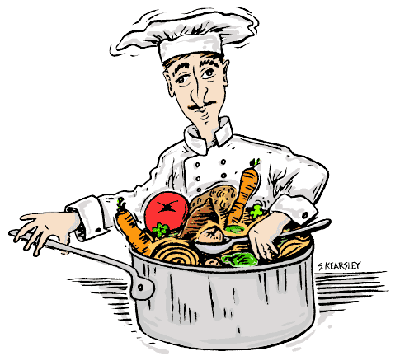 When I did my 10-mile diet and had to use every scrap of 10-mile food that made it into my house, I learned the secrets of turning anything into soup. The following general recipe for developing your signature soup comes from Blessing the Hands that Feed Us (Viking Penguin 2014), used with permission from the author.
I've become a soup maker as a way to use the variety of local ingredients that pour into my home at least six months a year. Knowing the textures, flavors and cooking behavior of my fresh foods, I now have a "signature soup" – a hearty minestrone with a touch of Indian. Here's some basics I use – not recipes but approaches.
Some things to steam or boil and then puree in a blender for a creamy soup: cauliflower, leeks, summer or winter squash, potatoes, turnips, rutabagas, parsnips, carrots.
Some things to sauté and put in soup when tender but not mushy: onions, carrots, celery, garlic, green peppers, potatoes, green beans, snap peas, broccoli, mushrooms and cabbage.
If you are an omnivore – as I am – then here's some meats to use for broth or chunks: chicken (boil bones or cook pieces and use the meat too), beef (boil knuckles and bones designated for dogs but you can use them for a great broth), seafood
If you are a vegavore or omnivore, beans and grain add heft (you'll read about Georgie, Georgina and Lauren in Chapter 9 – they were my 50-mile diet suppliers.) You can use anywhere quinoa, lentils, amaranth, oats, baked and chopped tubers (yams, sweet potatoes, potatoes, etc)
Bullion (chicken, beef or vegetable) to make the stock if you don't have fresh.
Some other juicy elements: chopped tomatoes, chopped summer squash chopped
Some herbs (fresh if possible) and spices: parsley, oregano, basil, thyme, marjoram, cumin (I used to think it smelled like gym socks, now I can't cook without it), coriander, fennel, curry (careful, some are better than others), tamari, salt, and pepper. Cilantro's good in Mexican soups.
Add at the end: Chopped chard, kale, mustard greens, beet greens will all cook as the soup simmers down after turning off the burner.
Mess around with these ingredients. Check for FASS* – Fat, Acid, Sweet, Salt – and adjust. I'm always surprised how a squeeze of lemon can brighten a soup. Oh, now I really sound like a chef!
* FASS (fat, acid, sweet, salt) was a cooking key I learned from Rebecca Katz's cookbook for people in treatment for cancer. It's amazing what learning to taste and adjust using these 4 factors will do to your cooking success. Hmmm. A dash of honey? A splash of tamari? A squeeze of lemon? A drop of sesame oil? Grab your chef hat, you're heading towards pro.