"Local is the food buzz word of the year and 90% of the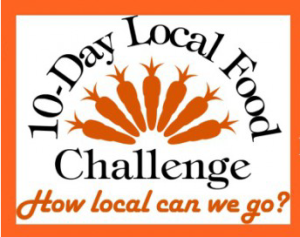 time it is a lie." ~~ participant in the 2014 Challenge.
How well can we-the-eaters feed ourselves from where we live? That's the question Vicki Robin asked in 2010, leading her to the 30-day 10-mile diet experiment she recounts in Blessing the Hands that Feed Us.
Now, with the 10-Day Local Food Challenge, she invites you to find out for yourself in your town or city. To be a local food scout, champion and leader.
Join eaters everywhere who are taking on the 10-Day Local Food Challenge in 2015. Sign up for the mailing list to be kept in the loop.
The Challenge is like a treasure hunt or adventure travel or a fitness training. It's a simple game with simple rules. It's one thing to "believe in good, clean fair food." It's another to live it. Sign up to jump on board as soon as the 2015 Challenge opportunities are announced.
Here's the basics:
Select 10 days when you will commit to eating food sourced within 100 miles (more or less of your home).
Give yourself 10 exotics, foods from afar you can't live without. No need to suffer.
Announce your intentions through taking the opening survey (2014 over, but take it for fun)
Do it. Find the food. Figure out how to cook seasonally and regionally. Face your fears and habits – and break through. Fall off the wagon… and get on again. Discover abundance right at hand. Discover, too, how little from your region is in your "local" grocery store. And more.
Make a bigger difference through taking the final survey (2014 closed, 2015 open soon)
In October 2014, 120 brave eaters from 4 countries took on the Challenge. To read about the outcomes, sign up for our mailing list and we'll send you the soon to be published How Local Can We Go? e-book complete with background, stories, data, success strategies and recipes. Find out what made it hard and what made it worth it. Find out the biggest surprises and disappointments. See what barriers some people couldn't get over – and let's solve those together in 2015.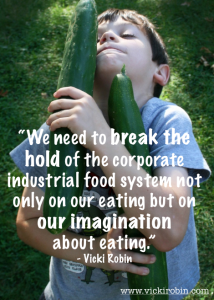 If you just can't wait, join the Facebook Group to jump in to the conversation and read back through the revelations. Tell us where you live, how you eat and why you care about local food.
The 2015 Challenge will build on these 2014 discoveries and respond to the most pressing eater needs. You'll get help – from your hosts and your community:
Planning
Finding Food
Learning the basics of cooking with whole foods
Building community with others
Taking time for local in a hurry up world
Going local even on your budget
The 2014 Challenge was focused on October. The 2015 one will offer a range of challenges – from Weekend Local Warrior to seasonal challenges to committing to more time or involving more people or doing it as a church, farm, restaurant, farmers market or business. All types of groups welcome and supported.
Heal your relationship with food.
Take charge of your diet.
Be nourished by food that breathes the same air, drinks the same water and soaks up the same sun you do.
Commit to your place on earth.
Find community.
Create a vibrant food culture.
Liberate yourself from almost total dependency on a food system whose bottom line is profit.
Sign up for information about the 2015 10-Day Local Food Challenge. Surprise yourself. Get radical. Inspire others.
Remember, this is an experiment. There are no wrong answers. No failures. All experience is information.
Remember, if we want to be a good food nation, we'll need more good food sourced closer to home. We need this to build our health, communities, economies and our kid's futures.
Ready… Set… Eat your region